Grinshill Woods fire: Area 'will take a year to recover'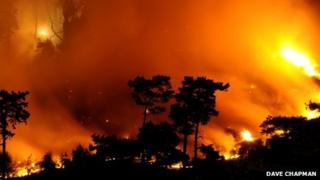 A woodland in Shropshire will take a year to recover from a huge fire, a wildlife trust has said.
At its height on Wednesday, 40 firefighters tackled the blaze which covered 400 square metres of trees and gorse at Grinshill Woods, near Wem.
The fire service said it believed the fire started accidentally by sunlight reflecting through broken glass.
Jan McElvy, of Shropshire Wildlife Trust, said it would take a year to return the wood to its previous state.
She said: "The fire can burn right down into the soil so the flames will kill a lot of the plants that are here.
"The deep rooted things such as the trees and bracken will be fine in the long run, although superficially it doesn't look good."
She said, while birds would have escaped, a number of species of invertebrates and insects are expected to have died in the fire.
Steve Purflow, from Shropshire Fire and Rescue service, said: "It's difficult to be 100% sure of how the fire started because of the damage that's been done, but we believe it started accidentally.
"After we examined the area where we believe the fire started we found a lot of broken glass from bottles and that combined with the dry weather is the likely cause."