Hoarwithy bridge to close again to repair badger damage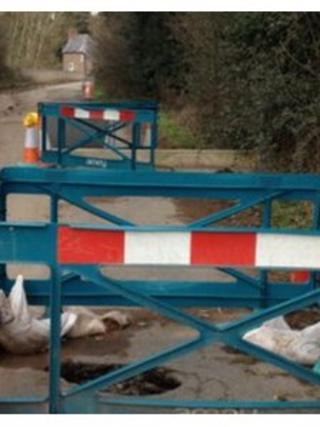 A bridge in Herefordshire and its approach roads are to be closed to repair damage caused by badgers.
In February, the Hoarwithy bridge had to be temporarily closed because of subsidence caused by the badger sett.
Herefordshire Council said the approach roads to the bridge on both sides of the River Wye will close for five days from 22 July.
The closure may have to be extended so that "a long term solution can be completed", the council said.
'Severely undermined'
The council said it has been working closely with Natural England to determine the best way to repair and reopen the Hoarwithy Bridge to Kings Caple road, without causing unlawful disruption to the sett during the breeding season.
Badgers and their setts are protected by law, a spokesperson said.
Local councillor Barry Durkin said the road has become "severely undermined" and the work must be carried out to enable access in the longer term.
"As the entire access road to the bridge will be a construction site without pedestrian or vehicular access I would request that no vehicle attempt to 'get around' any barriers and that pedestrians do not enter the site or attempt to manoeuvre around the barriers as they may put themselves in personal danger," he added.
Hoarwithy Bridge was closed for two weeks at the start of February and reopened with temporary traffic lights to control traffic.