Wakeman School in Shrewsbury closes for final time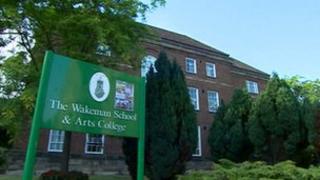 A Shrewsbury school will close for the final time later.
A decision to shut Wakeman School and Art College was made by Shropshire Council in 2011 because of "unsustainable" pupil numbers.
Just 18 students remain at the building, which will house part of Shrewsbury Sixth Form College from September.
Head teacher Karen Moore called the closure "unnecessary". The council said it had been a "hard decision to take".
Ms Moore said: "It's a waste of talent.
"It doesn't save any money and it certainly doesn't improve education across the county."
In a statement, Shropshire Council said the closure "was the right decision for the future of education in Shropshire".