A&Es at Shrewsbury and Telford hospitals 'unrealistic'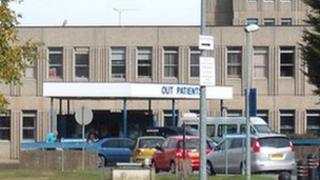 The chief executive of Shropshire's two main hospitals has said it would be unrealistic to assume both will keep their accident and emergency units.
The A&E departments at the Royal Shrewsbury Hospital and Telford's Princess Royal have struggled to hit waiting time targets over recent years.
Peter Herring, from the Shrewsbury and Telford NHS Trust, said he wanted to encourage debate on the subject.
He said no decision had been made and wanted as many views as possible.
Mr Herring said: "We want to look at how we provide urgent care in an entirely different fashion - maybe we need to stop thinking about traditional A&Es.
"There are a whole group of patients who could potentially come directly into our inpatient wards and not go anywhere near A&E and that's potentially the best care for them."
BBC Midlands Today health correspondent Michele Paduano said that about 110,000 patients went through both hospitals' A&E departments last year and that both were "rammed as it is".
'Nothing more devastating'
In February, two patients were left on trolleys in A&E at the Royal Shrewsbury for more than 12 hours.
The following month, it was revealed that both hospitals had failed to treat and discharge 95% of patients within four hours since the start of 2013.
The hospital trust said at the time a whole system review of urgent care was under way.
It also revealed, at that time, that hundreds of routine operations were being cancelled because of pressures on A&E and bed shortages.
The Wrekin MP Mark Pritchard said he feared lives could be lost if one hospital lost its A&E unit.
Shrewsbury MP Daniel Kawczynski said he could not think of "anything more controversial or devastating for one of the places" as proposing to lose an A&E unit.
Dr Caron Morton, from the Shropshire Clinical Commissioning Group, which represents the county's GPs, said: "We need to design a model alongside our clinicians which is fit for the future.
"We've not come up with any decisions about what that model looks like - whether it would be [an A&E department at] one hospital or two hospitals - we're being very clear, this is a consultation process and it needs to be clinically led."