Shifnal cash van robbery getaway car CCTV picture released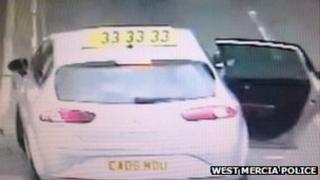 A CCTV image of the getaway car used by hooded men brandishing a hammer who robbed a security van in Shropshire has been released by the police.
The robbery happened outside Barclays Bank, The Square, Shifnal at 12:45 BST on Tuesday.
The two men stole what police called "a significant" amount of money".
West Mercia Police said the men escaped in a silver Seat Leon with a yellow taxi-type sign on its roof displaying the numbers 33 33 33.
Cash box sought
The image was caught on CCTV cameras as the car parked yards from the bank.
Police said the car was driven up Victoria Street, turned into Broadway and stopped at the junction with Aston Street just prior to the robbery.
It made off along Aston Street towards Tong and the A41, a spokesperson added.
The car has yet to be found and Det Insp Mark Bellamy said it was possible the yellow metallic roof sign had been removed and discarded.
"Anyone finding such a sign or indeed, the stolen cash box which might also have been thrown out, should get in touch," he added.
No-one was hurt in the incident.