Ludlow Hospital: Health bosses decide against funding request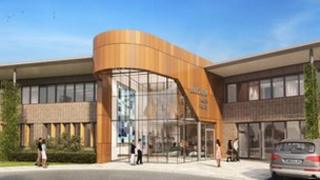 Health bosses have decided not to plug a £1.1m annual shortfall which would have seen work start on a £27m hospital in Shropshire.
Shropshire Clinical Commissioning Group [CCG] had been asked to meet the extra costs for the building in Ludlow.
But bosses decided they would not help fund the project because they would struggle to find the money.
Ludlow MP Philip Dunne has said he supports scaling back the plans if the money cannot be found elsewhere.
"I would support a smaller unit if the case is not made that we can find sufficient activities to go into the existing unit," he told BBC Radio Shropshire.
"It's what I will be pressing the community health trust to look at."
'Obviously disappointed'
The shortfall has come to light because fewer people are expected to use the new hospital than initially anticipated.
CCG accountable officer Caron Morton said they remained supportive of a new hospital facility.
"The only place the money could be taken from was front line staff and as a CCG we feel strongly we need to invest in front line staff," she said.
Work was due to start on the new hospital facility at the town's eco park last autumn.
Shropshire Community Health NHS Trust, which asked the CCG to plug the shortfall, said it would look for other ways to generate funding.
"The trust is obviously disappointed that Shropshire Clinical Commissioning Group is unable to underwrite the additional cost of the planned new Ludlow Health Facility, but understands the reasons behind its decision," it added.