Ludlow Hospital: NHS seeks answers to funding shortfall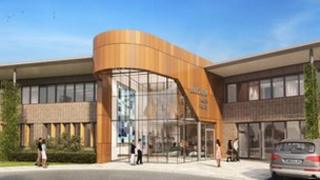 The NHS has said "no stone will be left unturned" looking for an answer after plans for a new hospital in Ludlow were hit by funding problems.
Shropshire Clinical Commissioning Group said it could not plug a £1.1m annual shortfall, threatening the £27m plans.
Shropshire Community Health Trust said it could scale back services at the new hospital or seek to improve the town's current hospital.
Campaigners said managers had "missed opportunities" to "get it right".
Trust interim chief executive Julia Bridgewater said managers would work hard to find an answer before the subject is discussed again at a meeting on 19 September.
'Look for solution'
"There is a commitment to health care facilities in Ludlow," she said.
"Can we get this scheme to run or not? Or are we looking at a slightly different scheme? Smaller perhaps."
Shropshire Community Health Trust said Ludlow's existing hospital could provide safe care for the next two to five years.
Ludlow MP Philip Dunne has said he supports scaling back the plans if the money cannot be found elsewhere. Another idea would be to improve the current hospital.
Ludlow Hospital's League of Friends chairman Peter Corfield said: "There have been so many opportunities for people to audit the assumptions and get it right but they have not done.
"We need to look for a solution. I think we need to do that by actually looking at what is deliverable in the current climate."
Work was due to start on the new hospital facility at the town's eco park last autumn.
The shortfall became apparent after it emerged the number of activities expected to take place in the new hospital had been miscalculated.