Site of family murder mansion set to be sold off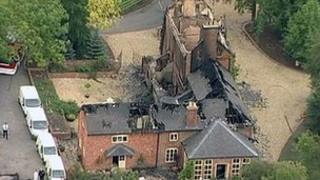 The site where a Shropshire businessman murdered his family and killed himself in 2008 is set to be sold.
Christopher Foster shot his wife Jill and 15-year-old daughter Kirstie in the £1.2m Osbaston House in Maesbrook before setting fire to it.
The building was demolished in 2011 and the 16-acre estate was on the market for more than a year.
An offer for the site has been accepted and planning permission for a six-bedroom home has been granted.
The estate is being sold under the new name of Waterside House, agents Strutt and Parker said.
"We are handling it as a building plot and it was on the market for £400,000.
"Plans have been approved to build a house of 8,225 sq ft, a detached stable block and detached grooms quarters."
Shot in the head
Mr Foster, 50, who had £4m debts and faced being declared bankrupt, also killed four dogs and three horses which were found in the house and outbuildings.
An inquest heard he had been suffering from depression, and had told his GP he was having suicidal thoughts.
CCTV footage from a camera at the property showed Mr Foster parking a large horsebox to block the main gates before getting out of the vehicle holding a rifle.
In 2009, coroner John Ellery recorded a verdict of unlawful killing and said Mr Foster had "quickly and methodically" killed his family.
"Mrs Jill Foster and her daughter Miss Kirstie Foster were both shot in the head," he said.
"They were shot in their respective bedrooms, almost certainly whilst asleep."