Telford's 'box road' £11.8m improvements work date set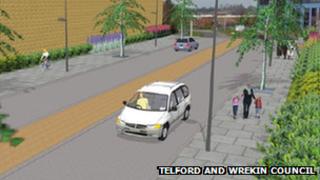 A date has been set for work to start on £11.8m improvements to the ring road around Telford town centre.
Drivers have been warned to expect delays from 30 September as work starts to make the "box road" two-way.
Telford and Wrekin council said work would be done in three phases finishing in the spring of 2015.
The council said the scheme aimed to improve safety and improve access to the £250m Southwater development, which is currently being built.
Councillor Hilda Rhodes said: "The current box road is too fast and not a good environment for cyclists or pedestrians.
"This scheme will make it safer while at the same time improving traffic flows in and around the town centre.
"This is a very major change for the town centre and it very much reflects the aim of the Southwater development in creating a more traditional town centre feel."
The road will be widened and will have new lighting, traffic lights and a central reservation.
Improvements will also be made to footpaths with new paving installed, the council said.
The authority said most of the surrounding roads would stay open during the works, although there may be some phased closures.
The cost of the scheme includes £6.7m funding from the Department for Transport.