Telford brothers appeal child sex sentences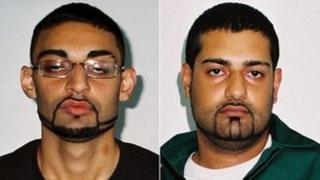 Two brothers from Telford who were jailed for a string of sexual offences against children have lodged appeals.
Ahdel Ali, 26, was sentenced to 18 years in October on charges including rape, sexual activity with a child and controlling child prostitution.
His brother Mubarek Ali, 30, was jailed for 14 years for controlling child prostitution and trafficking.
The Court of Appeal confirmed lawyers representing the men had appealed against the convictions and sentences.
The brothers, formerly both of Regent Street, Wellington, were convicted in August 2012.
A jury at Stafford Crown Court heard the brothers had sexually abused, trafficked, prostituted or tried to prostitute four Telford teenagers between March 2008 and December 2009.
During sentencing, at Worcester Crown Court in October, judge Patrick Thomas QC said their motives were "squalid, demeaning and selfish".
They were among seven men jailed as part of West Mercia Police's Operation Chalice.
The brothers had denied all charges. A date has yet to be set for the appeal hearing.
Ahdel Ali was found guilty of one charge of rape, 11 charges of sexual activity with a child, three charges of controlling child prostitution, one of inciting child prostitution, an allegation of inciting a child to engage in sexual activity and meeting a child after grooming.
Mubarek Ali was convicted of four charges of controlling child prostitution, two of trafficking in the UK for sexual exploitation and a charge of causing child prostitution.