Author Mary Webb's home faces demolition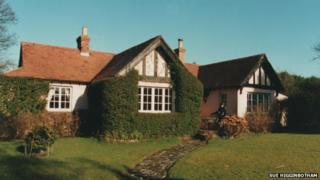 A cottage built by a Shropshire author could be demolished to make way for a new house under plans by the current owners.
Spring Cottage was built by Mary Webb and her husband on Lyth Hill, south of Shrewsbury, in 1917.
The Mary Webb Society said plans to demolish it would mean destroying a "significant literary heritage site".
Its current owners Joe and Annette Kwaterski said little remained of the original cottage.
A public consultation closed on Monday and the plans, which would see a two-storey six-bedroom home built on the plot, have attracted more than 60 objections.
A decision is expected to be made by Shropshire Council by 3 December.
Gladys Mary Coles, president of the Mary Webb Society, which has some 160 members, described the proposals as "shocking" and said Spring Cottage was important "not just to Shropshire, but internationally".
"She's known as the Thomas Hardy of Shropshire, so it's like people going down to Max Gate in Dorset, or the parsonage where the Brontes wrote in Yorkshire.
"It's [Spring Cottage] where she got her inspiration, it's where she wrote her work.
"She designed it herself, just three rooms. It was solace and peace for writing."
Ms Coles said the home was visited by famous literary figures of the day, including John Buchan and the area around Lyth Hill still attracted fans of Mary Webb.
Many of Webb's novels went on to become best sellers after her death in 1927 and her work also became popular in the US, where her official archive is held at Stanford University.
In a statement, current owners of Spring Cottage Mr and Mrs Kwaterski said: "There are no original features left within the bungalow that can be identified and having undergone extensive modernisation, permitted to previous owners, the external appearance has been extended, removing any significant features that would have portrayed the original."
There is no public access to the house, but Mr and Mrs Kwaterski said they were "not insensitive to the issue of Mary Webb's memory and would be happy to work with those who have an interest in her work".