Threatened Shropshire fire stations saved from closure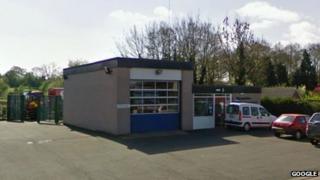 Plans to close four rural fire stations to save money have been scrapped by Shropshire Fire and Rescue Service.
It had proposed shutting the retained stations at Baschurch, Clun, Hodnet and Prees to save about £390,000.
The service needs to save £1.7m by 2020. It has agreed a new budget plan which includes a rise in its council tax precept by 2p a week per household.
It said it also planned to make changes to firefighters' shifts and cut budgets for support staff to save money.
Two full-time fire engines in both Shrewsbury and Telford would be retained it said.
Andy Johnson, from the fire service, said: "The potential risks including increased response times certainly don't warrant the loss of those stations and the saving of the relatively little amount of money accrued if we make that change."
Paul Ridgeley, from Baschurch Parish Council, which campaigned to save the fire station, said he was "absolutely delighted"
He said that hopefully "the idea of our communities having to wait 20 or 30 minutes for fire engines to arrive at potentially life-threatening situations has now passed over".
The fire service said it planned to make cuts of £400,000 by making changes to firefighters' shift patterns.
Band D householders in Shropshire pay about £1.25 per week for the fire and rescue service, and it wanted to put up its precept by 1.9% from April.