Staff dropped as Ditherington Flax Mill revamp faces delays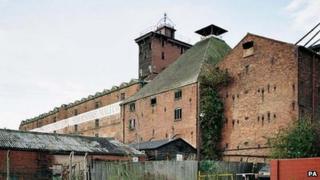 Two leading members of staff on a project to redevelop a historical flax mill have been made redundant as it faces delays.
The Ditherington Flax Mill in Shrewsbury was awarded a £12.8m lottery grant last year, as well as £6.6m European funding.
Work was due to start early this year to redevelop several listed buildings.
The Friends of the Flaxmill Maltings said delays meant it was no longer able to access some funding.
Manager Lisa Cowley and development officer Fay Bailey, working for the friends group, are expected to leave their jobs next Friday.
Alan Moseley, chair of the group, said they had made a big difference since being employed 18 months ago.
Preparation work started at the site in October and plans include turning the main Grade-I listed mill building into offices and exhibition space.
However, the project has come to a temporary halt and contractors have left the site.
'At anchor'
Mr Moseley said the scheme remained "very much alive", but "marking time for a little while".
"The ship's not off course, it's just at anchor."
The project is believed to have encountered higher-than expected quotes for work and Mr Moseley said the team now needed to asses what could be achieved with the money available.
English Heritage said it was now "exploring amended proposals to realise the masterplan vision" to bring the building "back to life and stimulate wider regeneration of the area".
Built in 1797, the Ditherington Flax Mill was the world's first iron-framed building and is considered the direct forerunner to the skyscraper. In 1897 it became a maltings until its closure in 1987.
English Heritage took over the mill in 2005 and is now leading the team redeveloping the site, taking it over from Shropshire Council.