'Shrewsbury 24' campaign criticises picket papers delay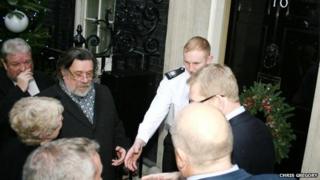 Campaigners say there is "no reason" why documents relating to the convictions of 24 men over a 1972 strike cannot be released now.
The men, known as the "Shrewsbury 24", were arrested following a building workers' strike. Six, including actor Ricky Tomlinson, were jailed.
In January MPs voted to urge the government to release the papers.
A decision not to disclose documents about the case on national security grounds is due for review in 2015.
Campaigners believe the documents contain details of the decision to charge the men, accused of violent picketing and intimidating workers in Shropshire.
'Difficult to believe'
The Shrewsbury 24 Campaign wants their convictions quashed.
Speaking in the House of Commons, Labour MP Katy Clark said: "It's very difficult to believe that, more than 40 years after the event, there could be any real national security issues [regarding the release of the papers]."
She added she would be happy to meet the Justice Minister Simon Hughes to ensure the papers were published at the earliest opportunity.
The decision to withhold the papers is subject to periodic review.
Mr Hughes said the Lord Chancellor had satisfied himself the documents were "appropriately" kept under cabinet closure.
Eileen Turnbull, from the Shrewsbury 24 Campaign, asked: "Does the will of Parliament mean anything?
"In January MPs voted by 120 to three for the government to release the papers. There is no reason why they shouldn't be released now.
"Why wait 12 months for a review?"
'Up for fight'
However, Ms Turnbull said the men were not becoming "disillusioned".
"This just makes us want to put more pressure on the government," she said.
"The oldest of the men is 87 and the youngest is 65 but they are still up for the fight."
In December, campaigners took a 100,000-signature petition calling for the men to be cleared to Downing Street.
A Ministry of Justice spokesman said: "The majority of papers relating to this case are already publicly available from the National Archives.
"Material can be held for longer than 30 years, including on the grounds of national security."