Tayleur Arms pub landlord vows to rebuild it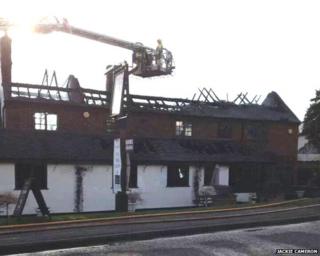 The landlord of a Shropshire pub which was gutted by a fire has said he is determined to rebuild it.
Richard Harvey, 42, and his wife Eve, 45, lost their home and business in the fire at the Tayleur Arms in Longdon-upon-Tern, near Bratton, on 19 March.
More than 40 firefighters tackled the blaze, which damaged most of the pub.
"We've talked about it and we're fighters. It will rise again," Mr Harvey said.
'Nothing left'
The cost of rebuilding the pub has been estimated at about £1.2m and could take more than a year, but the property is covered by insurance.
Mr Harvey and his wife are currently living in a caravan on the site and he said there was "nothing left whatsoever" of the family's possessions.
"People have been fantastic. They're given us clothes, mobile phones. One of my neighbours gave us his caravan to live in," Mr Harvey said.
"We've been overwhelmed by the response - I can only say thank you to everybody."
The 300-year-old building may yet have to be knocked down, as parts of it are bowing dangerously.
"If we get a couple of high wind nights it could finish it off, to be truthful," Mr Harvey said.
Surveyors are due to assess the property next week.
The brewery which owns the pub, Enterprise Inns, said no decision had yet been made on whether any of the building could be saved, and the extent of the damage is still being assessed.
The couple had been living in the property for nearly five years with their two teenage sons and employed 20 members of staff.
"I feel for all the staff... they've also lost their jobs and their security in their lives. It's not just our lives which have been upturned," Mr Harvey said.
"When we rebuild every single member of staff we've got will be offered work."