Stottesdon chancel repair liability withdrawn by parish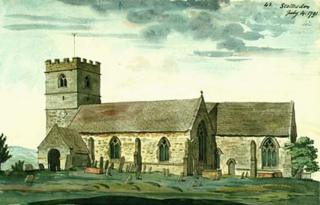 A parochial church council (PCC) which used an ancient law to force homeowners to pay for the upkeep of their local church has withdrawn its claim.
Under chancel repair liability, 25 homeowners living within the parish of St Mary's Church in Stottesdon, Shropshire, were liable for some of the costs of repairs.
Churches which want to claim the benefit must tell the Land Registry.
Stottesdon's PCC has now voted to remove its claim from the church deeds.
It means when houses are sold the repair liability will not transfer with the ownership, and new householders will not have to pay it.
'Healing and reconciliation'
"Concerns began to rise as soon as letters from the Land Registry started to arrive on doormats," said St Mary's priest, Reverend Colin Resch.
Mr Resch added: "The Christian faith has much to say about healing and reconciliation, and this decision will help us to live out the message that we preach."
The PCC's decision to relinquish the right to make parishioners pay for church repairs comes after a Facebook campaign was set up by villagers Elaine Hession and her partner Jonathan Hill.
The couple had been notified they would have to pay the charge in a letter Ms Hession, 38, said "simply stunned" them.
They also met with Ludlow Conservative MP Philip Dunne alongside dozens of others in the same situation.
"When we all walked in he was gobsmacked," Ms Hession said. "He said it was one of the biggest turnouts he's ever had at his advice surgery."
Mr Hill was concerned about the effect of the archaic law on his property, which he had inherited from his father.
"The good news is that it now means if we wanted to sell our house the liability wouldn't carry on to the new owner.
"[The PCC] has taken the bold and morally right step of removing these notices."
Under chancel repair liability, homeowners living within the parishes of churches built before 1536 can be held liable for costs.
The law dates back to the time of Henry VIII and, although actual claims are rare, in 2009 Adrian and Gail Wallbank from Warwickshire sold their home after losing an 18-year legal case and being left with costs of £250,000.
Another Shropshire church, Caynham Parish Church in Ludlow, has lodged a chancel repair liability applications, a Land Registry spokeswoman said.