Madebrook Telford waterway to be resurfaced in £140,000 project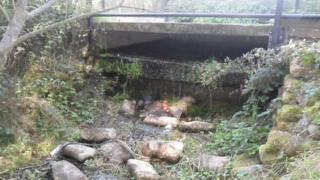 A Telford waterway which has been "hidden" since the town's development in the 1960s is to be resurfaced in a £140,000 project.
The Madebrook was diverted into pipes beneath the town when it was developed.
However, in 2013 the stream was judged to be of "bad quality" by the Environment Agency.
The agency is now providing the funding for the five-week project which will re-establish 400m (0.2 miles) of the water course in Telford.
The new route of the Madebrook will include two cascades, to help re-oxygenate the water. There are also plans to install a new footbridge.
It will flow through a proposed new nature reserve at Stirchley Dingle.
Pete Lambert, the river projects manager at Shropshire Wildlife Trust said: "It will look lovely and will be much better as a live stream, rather than sitting dumped in a pipe."