Bronze plaques stolen from Wellington Cemetery found at house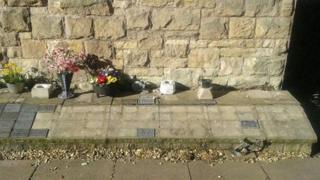 Dozens of bronze plaques stolen from a remembrance garden in Shropshire have been found.
About 100 6in (15cm) by 4in (10cm) plaques were taken from a wall in the garden at Wellington Cemetery on 7 March.
About half were recovered after a house was searched by police but only 25 have survived undamaged, Telford and Wrekin Council said.
A man has been arrested and bailed pending further inquiries.
'Far afield'
Many of the plaques have been in place since the 1970s and 1980s.
The local authority has said the plaques will be replaced at no extra cost to the families.
Councillor Hilda Rhodes said: "This was an extremely distressing theft and we are doing everything we can to restore the plaques.
"However, we don't have a comprehensive list or details of the more historic plaques so we are asking anyone who thinks their family's plaque was stolen to get in touch.
"When we put out the appeal at the time of the theft, we were contacted by people from as far afield as Canada and France who used to live locally so we are hopeful that we will trace more people this time as well."