Holidaymaker sues Thomas Cook over Tunisia cholera claim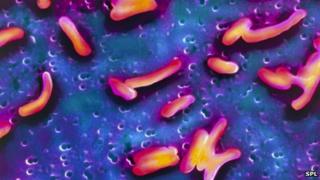 A man is suing travel firm Thomas Cook after claiming to have contracted cholera while on holiday in Tunisia.
Tim Warner, from Telford, said he thought he had contracted a stomach bug while staying in a hotel in September.
Back in the UK, he said he had been "stunned" when a doctor told him he had cholera - usually restricted to developing countries.
Thomas Cook said Mr Warner had been supported by its welfare team and it took the claims very seriously.
"When I went into the hospital they told me I could have died," Mr Warner said.
Sewage and flies
He said he had booked the holiday with partner Amanda, eager for a romantic, sunny getaway at an all-inclusive resort.
But arriving at the hotel, he said the couple were greeted by a strong odour of sewage and swarms of flies.
"We had already been having a bad holiday but then it got even worse when I began suffering from what I thought was a stomach bug," Mr Warner said.
"I was still feeling very poorly when we arrived home and I knew I should have been feeling better if it was just a bug so I went to visit my doctor.
"He did some tests and sent me home only to call me a few hours later and urging me to go straight to hospital as I had contracted cholera. I was stunned and very worried."
His solicitor Mark Montaldo, from law firm Slater and Gordon, said legal action had been started against Thomas Cook.
In a statement, the firm said: "The health and safety of our customers is always our primary concern, so we were naturally very concerned to hear that Mr Warner became unwell while he was on holiday with us."
The company confirmed it was talking to Mr Warner's legal representative and could not make any further comment at this time.