Much Wenlock gets new flood alert system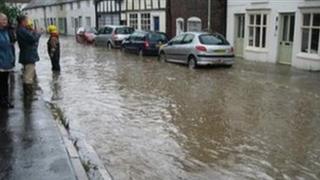 Monitoring equipment has been installed in a Shropshire town to help predict the risk of future floods.
The Much Wenlock Flood Action Group has spent £5,000 on the project, with the help of funding from the Environment Agency and Shropshire Council.
More than 60 homes were flooded in the town in 2007 due to heavy rain.
The group is promising to send out text alerts or emails to residents if there is a danger of serious flooding in the future.
The Environment Agency contributed £4,000 towards the installation and advised the action group on setting up the sensors.
They will be used to monitor river levels and the data will be examined by a team of volunteers looking at how they are affected by rainfall.
The action group said the town was at risk if more than 10mm (0.4in) of rain fell in an hour, especially if the ground was already wet.
The Environment Agency said because of the surrounding hills, Much Wenlock could suffer flash flooding and traditional warning systems would not work.
'The right system'
Action group chairman Paul Weeden said some people had accused it of raising fears unnecessarily, but added: "The community needs to do something. They can't just bury their head in the sand; they have to take some control over it."
It will cost £600 a year to keep the monitoring station running, in addition to the £5,000 installation costs.
Mr Weeden said more sensors could be installed later, because the group had a funding surplus of £2,000.
On top of the £4,000 it received from the Environment Agency, it was given £2,000 by Shropshire Council and had raised £1,000 itself.
Chris Bainger from the Environment Agency said: "They've been very fortunate here; they've got some very technical people.
"They've worked with us to put the right system in place."