RAF Cosford presented with new ceremonial flag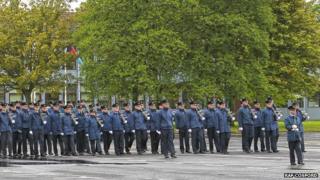 The Queen's Colour has been presented to a defence training school by the Princess Royal.
The standard awarded to RAF Cosford in 1952 will be retired, and the new colour will take its place.
The Shropshire squadron's colour is the only one in the armed forces paraded by non-commissioned servicemen rather than officers.
RAF Cosford is the base for a variety of units, including the Defence School of Aeronautical Engineering.
The Queen's Colour symbolises the regiment's loyalty to the Crown, and is held in addition to a regimental colour which has all the unit's battle honours inscribed on it.
Cosford Group Captain Adam Sansom, said: "Since the presentation of the original Queen's Colour in 1952, it has been the school's most treasured possession as it represents the trust placed in us by the Sovereign."