Ironbridge Gorge work is under way, says council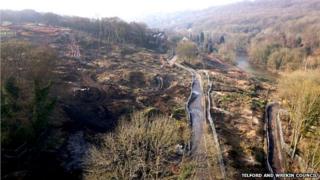 A £17.6m scheme to address land instability at a Unesco World Heritage Site in Shropshire is under way, the council has said.
The work, at the Ironbridge Gorge between Jackfield Tile Museum and the Boat Inn, is in an area that has suffered significant landslides.
Jackfield was the scene of major landslides in the 1950s and 1980s in which several houses were destroyed.
The work will involve the removal of a flexible wooden road.
'Prevent landslides'
The road, which was laid in the wake of the 1980s disaster, will be replaced with a new highway.
Metal piles will be driven into the ground to anchor it in place and the banks of the River Severn will be reinforced to prevent erosion.
The work is expected to be completed by 2016.
Richard Overton, a councillor with Telford and Wrekin Council, which has part-funded the project, said: "These works are essential to help prevent landslides and maintain the structure of the gorge both in the short and long-term."
The council added it would "shortly" announce when it would reopen the B4373 which closed in December after a hole appeared.