Shrewsbury hospital unit delay angers campaigners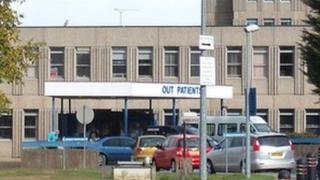 Delays to a new women and children's hospital unit have been described as "inconceivable" by campaigners.
The facility was due to open at the Royal Shrewsbury Hospital (RSH) in July, but has now been put on hold while a review is carried out.
The Shrewsbury and Telford Hospitals NHS Trust said it was still committed to the £5m project to replace older wards.
But now it is not known when the move will go ahead, the trust revealed.
It said it wanted to wait until the timeline for the NHS Future Fit review was published, to plan the way health services are provided in the future.
Former RSH director Ron Jones, who leads a group calling for hospital services to remain in the town, said the buildings which currently house women and children's services were out of date.
He added there was no reason to use them when all the plans have been completed and are ready to go for the (new) unit.
The Trust said it fully believed its maternity building was "a safe and appropriate environment for providing care" but it "remained committed" to moving women's and children's services out of the building in future.
It is in the process of a £28m reorganisation which involves moving some services from the RSH to Telford's Princess Royal Hospital (PRH). The move is due to happen in September.
Two wards at the RSH were due to be upgraded for the remaining women and children's services in Shrewsbury, the trust said.