Roadworks in Shrewsbury to shut town centre roads for a month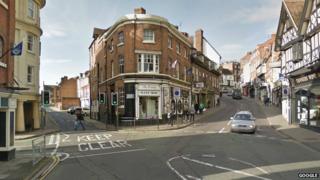 Work on a busy town centre junction will mean a series of road closures, lasting over a month.
Shropshire council said disruption would be unavoidable to traffic at the bottom of Wyle Cop, Shrewsbury.
It said the main aims of the work were to lower vehicle speeds, make the junction safer for pedestrians and make it easier to load vehicles.
Beeches Lane, St Julian's Friars and Wyle Cop will each need to be closed for a time.
The work includes repairs to pavements and kerbs, improvements to drainage and the installation of a zebra crossing on Beeches Lane, as a replacement for the existing pelican crossing.
The three roads will be closed one at a time, starting with Beeches Lane, which will close to traffic at 09:00 on 2 June for up to three weeks.
Wyle Cop is then expected to be closed from 23 June to 8 July and St Julian's Friars on 9 and 10 July.
The council said the road closures could be reduced if work progresses well and businesses on Wyle Cop would still be able to accept deliveries.
Claire Wild, the council's cabinet member for highways and transport, said: "Shrewsbury town centre will still be very much open and accessible, with pedestrian access being maintained at all times."