Sir John Talbot school to become academy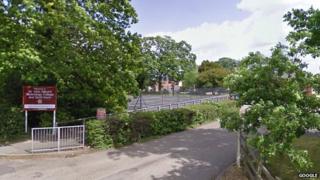 A secondary school put in special measures is set to become an academy.
Sir John Talbot Technology College in Whitchurch, Shropshire, was rated inadequate by Ofsted inspectors in March 2013.
A series of monitoring inspections have continued to criticise areas of teaching and pupil attainment, but also recognised improvements had been made.
A consultation has been carried out and the school is planning to open as an academy in September.
It is being sponsored by The Marches Academy Trust and The Marches School in Oswestry is expected to provide support and advice for teaching.
In recent months, the deputy head of The Marches School David O'Toole has been working as head teacher at Sir John Talbot to help raise standards.
Last year, Ofsted inspectors rated Sir John Talbot as inadequate, and was strongly critical of pupils' achievement in English and Maths, as well as teaching standards and leadership at the school.
Then head teacher Malcolm Ruddy resigned a week before the report's publication.
The latest monitoring report by Ofsted, however, concluded it was "making reasonable progress towards the removal of special measures".
Shropshire Council said a three-month-long consultation had shown "an overwhelming level of support" in the area for the academy plans.
Sarah Longville, executive head of The Marches Academy Trust, said the partnership would help "provide the school with the support and stability it needs to thrive".