London Midland must improve service, Mark Pritchard MP says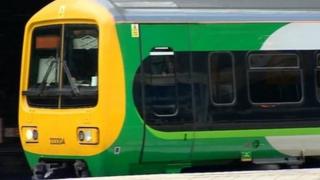 London Midland should lose its West Midlands rail franchise if it does not show improvement, an MP has said.
Mark Pritchard's comments come after the firm had its deal extended by six months last week, taking it up to March 2016.
The MP for the Wrekin said there had been a "wide variety of failures" in recent years and changes were needed.
London Midland has not commented on the franchise extension or Mr Pritchard's remarks.
The Shropshire MP, who uses the services himself, said: "So many passengers are crammed into too few carriages.
"More services and more space [are needed to] make it safer and more pleasant".
Government assistance
Over the past few years he said he had written to the company on many occasions.
"If they don't improve their performance I will certainly be asking the transport secretary not to extend their franchise any further," Mr Pritchard added.
A Department for Transport spokesman said during the extra six months it would be "working closely with the company to ensure they continue to improve the service they provide to passengers".
The process had not yet started of awarding a so-called management contract to run from March 2016 to June 2017, the department said.
It added a new franchise was planned to run from June 2017, which also has not yet been awarded.