New College Telford teachers go on strike over pay dispute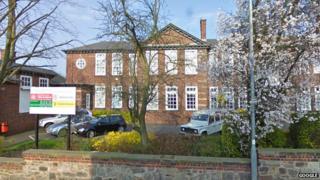 Teachers have gone on strike at a sixth form college in Shropshire in a dispute over pay.
The NASUWT union said its members were "angry and frustrated" that New College Telford had refused to pay them a nationally agreed 1% pay rise.
The college said 49 teachers were on strike but exams would not be affected.
It said it was trying to make savings due to government funding cuts and that jobs would be put at risk if extra had to be spent on salaries.
Two 24-hour strikes are planned for 17 and 25 June at the college, which employs about 70 teachers.
'Manage finances'
Ingrid Reeds, from the NASUWT in Shropshire, said: "Teachers at the college are rightfully angry and frustrated at being denied their pay award.
"They are dedicated and hard-working professionals who have been forced into strike action by the intransigence of their employer who is seeking to depress their pay without any just cause."
The National Union of Teachers, whose members are also on strike, said teachers and support staff had not had a pay rise since 2010.
Paul Morris, from the union, claimed New College was one of only two sixth form colleges in the country not to pay the agreed 1% rise this year. Teachers were instead offered a £100 one-off bonus.
Head teacher Fiona O'Brien said the government had cut the college's funding and it was trying to manage its finances accordingly.
She said: "In order to continue to safeguard jobs for our very talented teaching staff, this year we can't unfortunately commit to a 1% increase across the board to our payroll costs.
"We are, however, committed to rewarding staff wherever possible and that is why we have offered the small payment by way of an affordable way to enhance their salary and conditions this year."
The college said lessons had already finished for the year.