Inquiry into crematorium's failure to return babies' ashes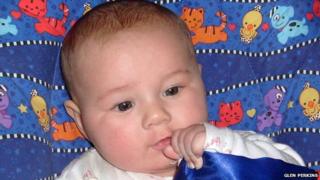 An independent inquiry will be held into a council crematorium's failure to return the ashes of dead babies to their families.
It comes after a BBC investigation found just one in 30 sets of baby ashes were returned to families by Emstrey Crematorium in Shrewsbury since 2004.
Glen Perkins, whose four-month-old daughter Olivia was cremated in 2007, said he was told there were no remains.
Shropshire Council leader Keith Barrow confirmed the inquiry would take place.
He said: "I want to help the people involved and get some form of resolution.
'Glimmer of hope'
"I am not sure if it's possible but we will do our best to achieve that."
Mr Perkins and his wife, Louise, from Shrewsbury, lost their daughter Olivia to Sudden Infant Death Syndrome and opted to have her cremated.
Welcoming the news of the inquiry, Mr Perkins said: "I want them to dig right down to the roots."
Mrs Perkins said the inquiry probably would not give them the answers they wanted but said at least she now had "a glimmer of hope".
Mr Barrow has not revealed timescales or who will conduct the independent inquiry.
The Institute of Cemetery and Crematorium Management said they believed it could be the first inquiry of its type in England.
Co-op Funeral Care, which has run Emstrey crematorium on behalf of Shropshire Council since 2011, has previously said in some circumstances there were "no recoverable cremated remains" from baby cremations.