Georgia Williams run in Telford raises 'at least' £3,000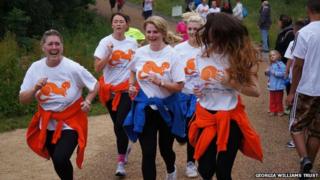 A run in memory of murdered Shropshire teenager Georgia Williams has attracted 455 fundraisers and raised "at least" £3,000, the organisers have said.
The 5km (3.1 mile) run in Telford Town Park was raising funds for the Georgia Williams Trust which was set up in the teenager's memory.
Georgia, 17, from Wellington was killed by Jamie Reynolds at his parents' house in May 2013.
The charity has so far raised £60,000 to help young people from the area.
'Quite a feat'
Chair of the trustees, Insp Richard Langton, said the charity hoped to make the run an annual event.
"It was a very successful day," he said.
"To get that many people along is quite a feat.
"I'm not sure how much we have raised but it is at least £3,000 so far - and that doesn't include sponsorship."
He said the day had begun with Georgia's family saying a few words about their daughter.
Participants in the race included an 11-year-old girl who had a wheelchair part-funded by the trust, which is a registered charity.
On Wednesday, it was revealed officers from Devon and Cornwall have been called in to investigate West Mercia Police's handling of Reynolds.