Telford New College strike cancelled after pay deal reached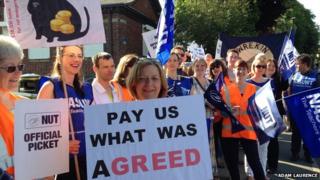 Strike action by college teachers in Shropshire has been cancelled after a pay deal was struck.
New College Telford workers had already downed tools twice in a row over bosses' refusal to give them a 1% rise.
They were due to demonstrate again on Tuesday and Wednesday.
But the college has agreed a 0.5% rise from 31 July and a further 0.5% rise from 30 September. Both will be backdated to September 2013.
'Pleased with outcome'
NUT spokesman Paul Morris said he was happy the dispute had been settled.
"This is not a huge amount but it's the principle of the matter," he said.
"They are paying it in instalments but, effectively, it is the 1% we asked for."
Teachers at the college are currently paid between £22,000 and £36,000.
Acting principal Fiona O'Brien said: "We are pleased to have achieved an outcome that is affordable for the college and acceptable to our staff.
"As we have always said, funding for this academic year remains tight but we have committed to paying the award for 2013/2014 and we are pleased that this is satisfactory for all the staff."