Rickshaw plan for Telford to Ironbridge route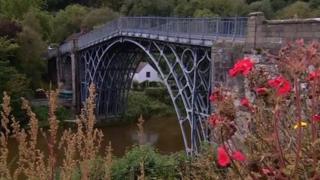 Rickshaws could take visitors from Telford to Ironbridge if a licence is granted to run the pedal-powered taxis.
Sirvan Singh and Joe Lewis-Owen, both 28, who grew up in Telford, have been supported in their business by self-employment programme Young Britain.
They are currently restoring one rickshaw and plan to run a fleet of three on the route.
Their licence application will be considered by Telford and Wrekin Council on 9 July.
They are proposing to run the service on existing cycle routes along the Silkin Way into Ironbridge Gorge.
Mr Lewis-Owen said: "We've always used the Silkin Way as a personal commute and we're big push bike people.
"Just before Christmas we decided why don't we bring the Silkin Way back together?"
Mr Singh said: "I thought let's go unique on it, there's Indian rickshaws, let's try that. It's seven miles (11km) downhill there but it's all uphill on the way back."
The proposed prices for the Silkin route rickshaw rides are expected to be between £6 and £30 and could start in August.