Bid to borrow £120m for MoD Donnington expansion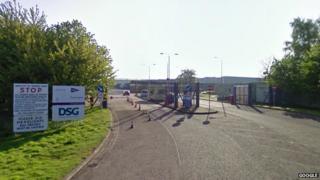 Up to £120m could be borrowed from the government so a Shropshire military base can expand under a Ministry of Defence (MoD) contract.
Telford and Wrekin Council is bidding for MoD Donnington to become the Army's main logistics base, which it said would secure 700 jobs and create 700 more on the military site.
The ministry is looking at bids for Donnington and Bicester, Oxfordshire.
If the council bid is successful it will use the loan for building work.
MoD Donnington already provides logistics support for the Army and the council has bought land next to the existing site, with planning permission to build, in preparation of its bid.
'£60m extra'
The loan for building work, if approved by cabinet next Thursday, would be paid back through commercial rent from the site, the council said.
David Sidaway, the council's director of development and business, said 700 jobs on the base would be secured and a further 400 created, in addition to an estimated 300 jobs created locally in the supply chain.
"The difference between totally losing Donnington or completely winning the bid could be up to £60m per year extra in the Telford and Wrekin economy.
"That's just under 2% of the annual economy of Telford and Wrekin," he said.
The MoD decision on where to base its logistics operation is likely to be made later this year.