Nurse at orthopaedic hospital struck off for 'sex texts'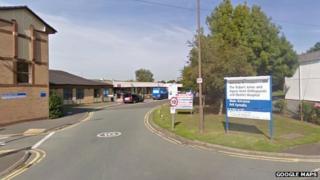 A nurse has been struck off after taking a patient's mobile number from private records and sending him "sexually motivated" messages.
Philip Pugh sent the messages while working at The Robert Jones and Agnes Hunt Orthopaedic Hospital, Oswestry.
He claimed his name was Jody and asked the patient to send him pictures of his body parts.
A Nursing and Midwifery Council Panel concluded a striking off order was "the only appropriate sanction".
'Mortified and embarrassed'
Its report said: "The panel found that by his actions, Mr Pugh abused his position of trust and exploited a vulnerable patient thereby breaching professional boundaries.
"Mr Pugh also breached a fundamental tenet of his profession by failing to make the protection, care and welfare of his patient his first concern."
Mr Pugh, a registered nurse since 2003, did not attend the hearing. He had previously said the messages - sent on on 9 April 2013 - were "a bad joke that went wrong".
But the report said the patient felt "degraded, upset…. mortified and embarrassed" as soon as he found out it was Mr Pugh who was messaging him.
The report said: "In the panel's judgment, Mr Pugh's conduct and behaviour has undoubtedly brought the profession into disrepute."
Pugh was dismissed for gross conduct on 12 June after admitting taking the patient's number from records and contacting him.
He has the option to appeal the striking off order.