Plan to demolish east wing of Brogyntyn Hall, Oswestry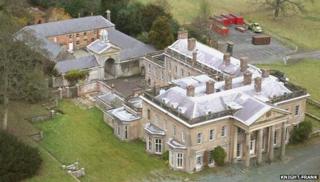 Proposals have been unveiled to demolish part of a historical country estate on the edge of Oswestry.
The owners of Grade II-listed Brogyntyn Hall want to knock down the east wing - reducing living space by a third.
They also want to build 50 homes in the grounds of the estate, which can be traced back to the 12th Century, and convert a farm house into 11 homes.
It is hoped the proposals will attract buyers and secure the site's removal from the Heritage at Risk register.
The main hall was built for William Owen by Francis Smith of Warwick around 1735 and later leased to British Telecom for use as offices.
'Last resort'
The nine-bedroom hall, valued at £5m, was on the market for ten years but no firm offers were made.
Now the owners want to convert its status from office use to single residence.
A report to Shropshire Council said the proposal to demolish the east wing "has not been put forward lightly, but reluctantly and as a last resort".
It said there was a "real risk" the whole building could be lost unless action was taken.
"The applicant recognises that the demolition of the east wing and the construction of new housing within the registered park would not normally be considered acceptable for consent, but is convinced that this is the only practical way of reversing the economic decline that has reduced the hall to its present condition," it said.
Removal of the east wing would reduce space to 23,800 sq ft (2,211 sq m) and the number of main bedrooms to six.
It said other options, including transforming the hall into flats or a nursing home, would not secure its long-term future.
A decision on the plans is expected by September.