PC 'had sex and extracted £100,000 from murder victim father'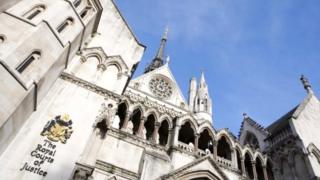 A police officer has been accused of having sex with and extracting £100,000 from an elderly man she met after his son was killed by an axe-murderer.
Papers lodged with the High Court state that Charles Foulkes, then in his 80s, took the officer, in her 30s, on trips and gave her gifts and money.
His three daughters are suing West Mercia Police over the officer's "inappropriate" behaviour.
The force said it had investigated but could not yet comment.
It declined to say whether the officer had been arrested or suspended over the allegations.
The officer, identified only as "PC X" in court documents, was appointed as a family liaison officer to Mr Foulkes and his wife Dorothy, of Church Stretton, Shropshire, after their 49-year-old son, Colin, was murdered in May 2001.
Mr Foulkes was the sole beneficiary of his son's estate of about £180,000, according to papers.
'Bit of fluff'
At the time Mrs Foulkes was confined to the couple's home with a terminal illness. She died later that year.
"Such was the inappropriate manner in which PC X interacted [with Mr Foulkes], his wife referred to PC X with great distress as his 'bit of fluff'", according to the court documents.
The couple's daughters, named as Carla Kelly, Michele Pugh and Charmaine Jones, started legal action after their father died aged 93 in 2011, saying until then they "had not learned the true extent of the wrongdoing of PC X".
They say that over the 10 years of their relationship Mr Foulkes transferred £11,500 into PC X's bank account, as well as withdrawing more than £60,000 in cash.
The women say that Mr Foulkes was in a particularly vulnerable position because of the deaths of his son and his wife, and that he did not have a large circle of friends or family. They say that PC X "manipulated" and "isolated" the elderly man who was 45 years her elder.
The document says that PC X sent Mr Foulkes texts saying she loved him and that he was "special".
It says that PC X persuaded Mr Foulkes to get Viagra from his doctor so he could have sex with her; and that over the years he gave her cash and expensive gifts including a silver pendant and an antique trunk. He also paid for days out and expensive meals.
The women say their human rights were breached because West Mercia police failed to stop the alleged "inappropriate" behaviour.
They say that the force failed to act several times when informed that a relationship was ongoing, and that once an officer told them to "back off".
Ms Kelly, Ms Pugh and Ms Jones want reparation of £100,000 and damages for "serious distress".
West Mercia Police said in a statement: "[The force] has conducted a thorough investigation into the concerns raised by the family of Mr Foulkes into this officer's relationship with their father.
"This investigation was supervised by the Independent Police Complaints Commission, which is currently reviewing our findings, and until we receive its response we are unable to comment further."
Colin Foulkes was killed in 2001 by a man he thought was a friend, John Latus, who attacked him with an axe.
Latus, who was schizophrenic, also killed another man, Julian Saunders, whose body was found decapitated in a Birmingham park.