Shrewsbury and Telford Hospital NHS Trust fears £15m deficit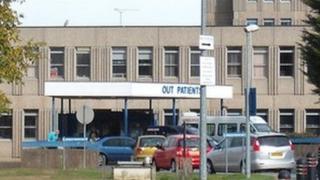 A Shropshire hospital trust is facing a £15m deficit unless it takes action, its board has warned.
The Shrewsbury and Telford Hospital NHS Trust was one of 19 indentified last week by the Audit Commission, as being in severe financial difficulty.
It has already received a £4m bailout from the government.
The trust said it had been forced to spend almost £750,000 on agency nurses, to fill vacant posts and cover sickness.
The trust said high staff costs were largely responsible for the deficit, with the wage bill £1.9m over budget in one month alone.
Director of nursing and quality Sarah Bloomfield, told the board plans to recruit nurses overseas had so far not been successful but it was hoped more permanent nurses would be brought in, over the next few months,
The trust also said 45 health care assistants would be recruited over the next six weeks, to ease the reliance on agency staff.