Bid to repair 12th Century Shifnal church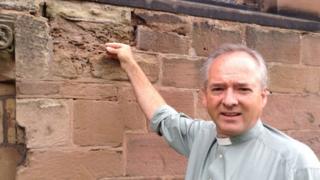 A fundraising campaign has been started to pay for £30,000 of repairs to a crumbling 12th Century church.
Grade I listed St Andrew's Church in Shifnal, Shropshire, is in danger of losing its stained glass windows and the red sandstone is deteriorating.
Reverend Chris Thorpe has praised the "whole community for rallying around".
More than 200 people have joined forces to organise a series of fundraising events from next month to pay for the repairs, he said.
"If it crumbles any further we will lose the stained glass," he said.
"The red sandstone is like a sandcastle and is coming away in my hands."