Sweeney Mountain skull 'trophy' theory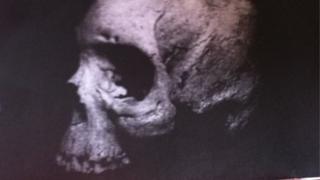 A man's skull discovered in woodland could have been a "trophy" brought back to the UK from abroad, an inquest has heard.
It was found by a dog on a pheasant shoot on Sweeney Mountain, near Oswestry, on 2 November.
An inquest heard the skull had not been in the woods for long but it was not possible to determine how or exactly when the man had died.
Shropshire coroner John Ellery recorded an open verdict.
He said tests suggested the skull belonged to a male, "probably of Afro-Caribbean origin who died after 1963 aged between 25 and 50".
Tool marks
The coroner told the hearing in Shrewsbury the man had died "in an unknown place of an unknown cause".
In his report, Dr Nicholas Hunt, home office pathologist, said it was "not possible to say whether his death was natural or the result of trauma".
He said there was evidence of tool marks on the skull but it was unclear whether these were caused before or after death.
Dr Hunt said the condition of his teeth suggested he was from a hot country, possibly a desert.
One theory was that the skull might have been brought back to the UK as a "trophy" and later abandoned in the woods, he said.
Anthropologist Dr Julie Ann Roberts was involved in the investigation.
Her report said the skull "had no dark staining and was pale in colour", suggesting it had not been in the woods for long.
In a statement read out at the hearing, West Mercia Police said a dog belonging to a shooting party had entered the woods in November, and returned with the skull.
The inquest heard a sixth of the woods was searched by officers and no other remains were found.