Horse trapped on gate hoisted to safety in Shropshire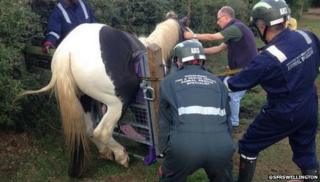 A stricken horse had to be winched to safety after it got trapped on a farm gate.
Firefighters were called on Saturday evening to Valeswood Lane in Little Ness, near Shrewsbury, where they found the animal in difficulty.
It is thought the horse became trapped when it tried to jump the steel gate to get into a different paddock.
The animal, called Jester, was sedated by a vet before crews used lifting machinery to hoist it to safety.
The four-year-old horse was treated for minor cuts and grazes.
Firefighter Craig Jackson said: "When we arrived it was thrashing about quite a lot.
"It had quite a few grazes and bruises, it was quite stressed. But it was sedated and we managed to lift it safely off the gate."