Kate Moss bag sells for £240 at Shropshire care home auction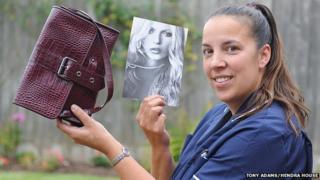 A handbag donated by supermodel Kate Moss has raised £240 for a Shropshire care home at auction.
The purple crocodile-skin style handbag was given to Hendra House in Ludlow to sell. Ms Moss has mutual friend who has a relative in the home, it said.
Manager Vince Burmingham said Moss had previously given them fashion items and a portfolio of photographs to sell off.
The auction, which also included an Arsenal shirt signed by manager Arsene Wenger, raised £2,500, he said.
"The money is vital to our fundraising; it means we can take our residents on day trips which we try to do at least once a month," Mr Burmingham said.
The residential home has 28 residents, including three who are all aged 100 or older.