Ludlow hydro plans for River Teme turbine revealed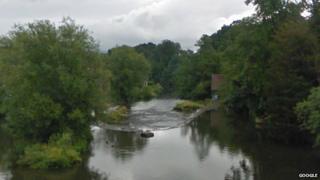 Plans to install a turbine on a Shropshire river to power 40 houses have been revealed.
The Ludlow Hydro Co-operative group and Sharenergy said they wanted to use the power of the River Teme at the town's Horseshoe Weir to generate electricity.
Jeremy Thorpe, from Sharenergy, said they planned to sell shares in the £300,000 scheme to help pay for it.
A formal planning application would be submitted to local councils later this year, he said.
The 30kw turbine would be installed next to Ludford Mill.
Mr Thorpe said the groups had been working on the proposal since 2011 and it was consulting with local people about the scheme before submitting final plans.
"It is a beautiful historic setting so we've tried to make sure the design fits in with the surroundings, so that the turbine doesn't detract from the visual appearance of the weir when river levels are low," he said.