Milk price protests: Dairy farmers quit due to losses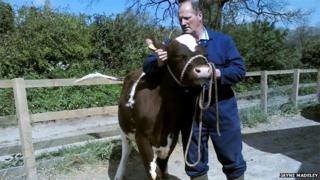 British dairy farmers have been hit by a series of price cuts in recent months, prompting some to blockade one of the country's biggest buyers.
After 30 years in the industry, dairy farmers Neil and Jayne Madeley are selling up after seeing their income plummet.
They admit it has been a difficult decision to take.
"We feel a bit empty to be honest," Mrs Madeley said.
"At least we're talking to each other now. We couldn't talk before - the children haven't been talking to us either since the decision.
"Three grown men crying is not a sight you want to see. There's been a lot of shouting, but we have to get out, there's no other option."
The family rents 150 acres near Bridgnorth, in south Shropshire, but have been hit by falling milk prices.
They are unlikely to be the only ones selling up. In September alone, 48 dairy farmers across England left the industry, according to DairyCo, a not-for-profit organisation that represents the sector. More than 1,300 dairy farmers have sold up in the past five years.
Most milk buyers have followed up a cut of more than 1p per litre at the start of October with a similar one coming into force in November and further cuts have been predicted.
The move prompted hundreds of farmers to protest outside Muller's dairy in Market Drayton, in Shropshire, on Monday night while other protests are being organised around the country.
For Neil and Jayne Madeley, however, fighting the biggest names in the industry was not the answer.
"You can only jiggle the bills for so long," Mrs Madeley said. "We started milking 30 years ago to the month.
"We could have taken our time over the decision, but we felt we had to go. The longer it goes on the harder it'll be and people might not want to buy our cows.
"We've had another penny cut [per litre] and it can't go on. From 1 November we'll be down to 21p."
Even for a struggling industry, that is a particularly low price, but Mrs Madeley said they could not find another, better buyer.
For them, a 1p per litre cut means a drop in revenue of about £6,200 a year.
Most of the family's 90-strong herd, which includes award-winning Dairy Shorthorns and Holsteins, are being auctioned at the end of the month.
They are expected to raise about £1,200 a head, although Mrs Madeley said much of that would go to pay off bills.
It will mean saying goodbye to more than a livelihood.
"Animals are more than a business. Every one of ours has a name," Mrs Madeley said.
"It's in our blood. We're selling up because we've got to, it's a business decision that's been forced upon us."
The UK's main milk buyers have blamed price cuts on a combination of increased production, both in the UK and across the world, coupled with a drop in global demand.
UK farmers are set to produce 14 billion litres this year, one billion more compared with 2013.
Buyers said the import ban recently introduced by Russia had also done the industry no favours.
However, for the Madeleys, who are fourth generation farmers and work exclusively in dairy, a drop in global commodity markets is a fact they have to live with.
"We're passionate farmers and Neil sometimes works 90 hours a week," Mrs Madeley said.
"If you came here, my husband would introduce you to every cow and could tell you a story about every one, tell you who the mother is.
"On Sunday we'll cancel as many bills as we can. The auctioneer visited yesterday, but we've got to do the TB tests yet.
"We don't know what we're going to do. We've absolutely no idea, but we'll almost certainly stay within farming.
"We're trying to look at it as a new adventure."