Family 'targeted' after GBBO baked Alaska exit, Diana Beard says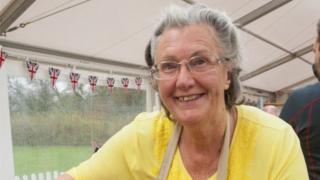 The family of "Alaska-gate" Great British Bake Off contestant Diana Beard had to deal with "nasty remarks" after a fellow baker was sent home, she said.
Ms Beard also said her family was approached by journalists after she was shown to have played a part in the baked Alaska controversy.
Iain Watters was eliminated after throwing his melted baked Alaska in the bin. Ms Beard was earlier shown taking it out of the freezer.
Ms Beard left the show due to illness.
Speaking to the BBC, Ms Beard, from Shropshire, said she thought her youngest daughter "took every punch" when viewers took to social media to discuss the episode.
"I'm not on Facebook and Twitter, but she is and was doing some sterling work and I think maybe she had some of the nasty remarks that were coming through.
"My other daughter in Norfolk was having press [turn up] and they tried to get to my grandchildren and I said 'really?'. No no, you can do what you like to me, but don't you get to my grandchildren."
In August Ms Beard said she had been "stitched up" with the way she had been portrayed in the episode where Mr Watters left the show.
She said his ice cream had been out of the freezer for no more than "40 seconds" and that her "conscience was intact".
Ms Beard left the show after a fall during filming left her with concussion and with no sense of taste and smell.
The final of The Great British Bake Off will be shown tonight on BBC One at 20:00 BST.