Paraglider Mark Dann breaks back in San Diego cliff crash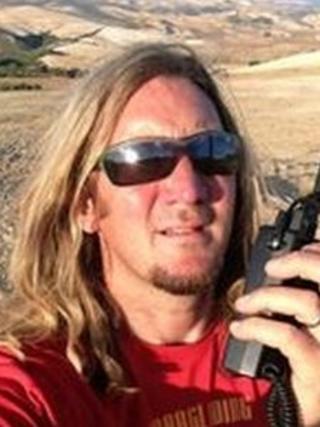 A paraglider from Shropshire is lucky to be alive after breaking his back while flying in California.
Mark Dann crashed into cliffs near San Diego and damaged his lower vertebrae, his wife Rachel said.
The 46-year-old will remain in hospital there for two to three weeks following Sunday's accident in Torrey Pines.
"He is a very very lucky man," she said. "It's his own fault, he's a very experienced pilot and has never even broken a nail in 25 years."
Mr Dann, who runs a paragliding adventure company in Melverley, crashed into the 100ft-high cliffs on Sunday - the first day of his trip to the US, she said.
'Could have died'
She received a phone call from him at about 01:00 BST.
"He's based here but goes to California once a year to fly," she said.
"He was very silly, it was the unusual conditions. Normally, when you fly next to cliffs over the sea, there's a sea breeze but this time there wasn't and that caused problems.
"He should've checked more. He's been incredibly lucky and could've easily been killed."
She said he was rescued by a "fantastic" team and had been with friends who raised the alarm.
"He's lucky to not have been in a more remote spot as he often can be," she said.
Doctors used one of his ribs to fuse his vertebrae.
"He has broken his back and he'll be in hospital for two or three weeks before he can fly home but he should be flying in the spring," she said.