Star Wars actor Harrison Ford joins Shropshire flight club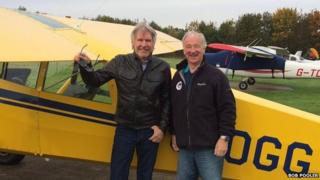 Hollywood actor Harrison Ford has become the latest member of a Shropshire flying club.
Bob Pooler, chief instructor with Shropshire Aero Club, said he received a call from the actor, who was keen to rent an aircraft while he was filming the new Star Wars movie.
He said the actor had wanted to bring one of his own planes to Britain, but ran out of time before filming started.
Mr Pooler said the call, from Ford himself, came "out of the blue".
He said he delivered a plane from Sleap Airfield, near Wem, to Denham, close to Pinewood Studios on Sunday.
"I checked Harrison out, flew around the patch with him and made sure he was legal to fly and that's it.
'Lifetime member'
"We talked about Star Wars among other movies."
Mr Pooler, who is also a dealer for Husky light aircraft, said he had first been contacted by the manufacturer's factory a few months ago.
"To rent the aeroplanes from Sleap you have to become a member and Harrison paid his membership dues until the end of the year," Mr Pooler said.
"I asked him, 'can we make you a temporary member of the aero club?' and he said 'I don't want to be a temporary member, I want to be a lifetime member'.
"I proposed that to the committee at the aero club and of course, without hesitation they said let's make him a lifetime member.
"He's got an open invitation to visit us at any time.
"He's also invited me to visit his place in California.
"I think he's got his own mini air force of about 11 aeroplanes."
It is not the first time Ford has been connected with the county.
In 2004 he travelled along the Shropshire Union canal after attending the Llangollen International Eisteddfod in North Wales with wife Calista Flockhart.