Maesbrook gatecrashers jailed for violent disorder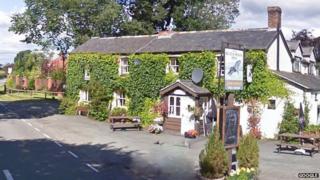 A gang of 10 men who gatecrashed a teenager's house party in what a judge described as "the spirit of the mob" have been jailed for violent disorder.
The men - aged between 19 and 23 - punched, headbutted, and attacked the partygoers with bottles in Maesbrook, Shropshire in December 2012.
Ambulance staff had to set up a triage area at nearby pub the Black Horse, and eight teenagers were taken to hospital.
The men, from the Welshpool area of Powys, also caused damage of £10,000.
Police found a crowbar, a tyre lever and a pickaxe handle at the house, which the men had used to smash windows, furniture and a car.
Sentencing at Shrewsbury Crown Court, judge Peter Barrie described the event as "a disgraceful episode of violence and damage" by "men who had gone to cause mayhem".
Five of the of the gang admitted violent disorder last year, while the other five were found guilty earlier this year.
In addition, 19-year-old Richard Rogers was found guilty of possession of an offensive weapon and dangerous driving.
He was sentenced to 30 months in a young offender institution (YOI) for the violent disorder, and nine months and six months for the other offences, to be served concurrently.
The sentences were:
Sam Williams, 20, of Gungrog Hill, Welshpool: 12 months
Huw Jones, 23, of Gungrog Hill, Welshpool: 24 months
Joshua Parry, 21, of Gungrog Road, Welshpool: 22 months
Ryan Hywel Griffiths, 23, of Croft Road, Welshpool: 24 months
Huw-Glyn Jones, 19, of Orchard Green, Llanymynech: 18 months YOI
Stafford Jones, 20, of Llanidloes Road, Newtown: 18 months YOI
Richard Rogers, 19, of Bronwylfa Road, Welshpool: 30 months YOI
Ashley Pedrini, 19, of High Street Welshpool: 20 months YOI
Frankie Jones, 19, of Marche Lane, Halfway House: 22 months YOI
Thomas Herbert, 22, of Park Caradog, Trewern, had already served nine months on remand, and was given a 12-month community order and a 12-month supervision order.