'More staff needed' to meet Shropshire ambulance targets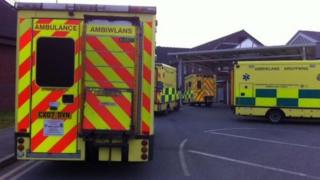 Hundreds more ambulance staff would be needed in Shropshire to meet response targets, a report has said.
According to national guidelines, 75% of serious emergencies should be reached within eight minutes.
A report for Shropshire Clinical Commissioning Group (CCG) showed those targets had not been met for two years.
It said it would take 510 extra staff and almost 40 ambulances to achieve national guidelines, but funding it was not possible.
West Midlands Ambulance Service, which welcomed the report, currently employs about 200 staff in the county.
The CCG said it would be impossible to fund the additional resources or recruit the staff even if it had the money.
Rural service 'challenging'
Julie Davies, CCG director of strategy, said: "Instead we need to look at how we can best improve results for Shropshire patients within the existing resources and there is a lot being done."
She said improvements were being made in recruiting more first responders and allocating ambulances better across the county.
Private firms are also expected to take on the transport of more GP referrals to free-up vehicles, the CCG said.
Michelle Brotherton, WMAS general manager for West Mercia, said: "Delivering an ambulance service in a large rural area like Shropshire has always been challenging."
She said vehicles had been reinstated to some market towns to help improve response times.
In May, WMAS was fined £2.6m for failing to hit targets for 2013-14 and has previously called for extra funding.
Ambulance performance in Shropshire
Year
Red One - national target of 75% within eight minutes
Red Two - national target of 75% within eight minutes
2012-13
67.2%
72.0%
2013-14
63.2%
68.0%
2014-15 (current)
60.9%
65.2%