Ludlow Arts Festival cancelled due to 'insufficient support'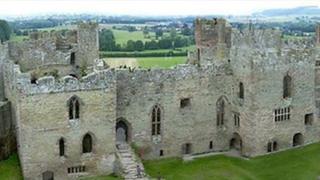 A Shropshire arts festival has been cancelled due to "insufficient support", organisers said.
Ludlow Arts Festival was first staged in 1960 but was axed in 2012 after suffering major losses. It was revived in 2013 and 2014.
Last year a Shakespeare play was staged in Ludlow Castle, and Ken Dodd, Jim Davidson and David Essex were among the artists appearing at other venues.
Organisers said next year's planned events were "not commercially viable".
In a joint statement, Ludlow Castle and the arts festival directors said: "Despite two successful and well-run festivals in 2013 and 2014, which saw increased numbers of attendees, the level of support has proved insufficient."
'Very ambitious'
Actor John Challis, who is a patron of the festival and appeared in Shakespeare's As You Like It last year, said the news was "very sad".
"We were quite blessed with the weather but not enough people turned up - it was disappointing it wasn't better supported.
"Hopefully [the festival] will rise from the ashes in a different form," he said.
Tish Dockerty, secretary of Ludlow's Chamber of Commerce, said talks were already taking place about an alternative event in 2015, although "not on the scale of the festival".
"It was very ambitious and I think this is possibly why it's not been as commercial as we thought," she said.
The 1960 festival featured Shakespeare's A Midsummer Night's Dream performed in the castle
Concerts were performed at local churches
The 2014 festival featured John Challis in a Stafford Gatehouse Theatre production of Shakespeare's As You Like It
Musical acts included The Bay City Rollers, Showaddywaddy and the folk band Bellowhead