Attingham Park picture gallery roof completed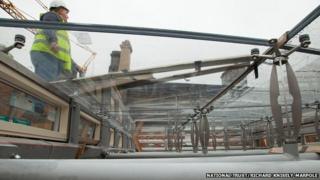 Work has finished on a new roof as part of a £1.4m restoration project at a historic house.
Architect John Nash's picture gallery at the grade-I listed Attingham Park has leaked ever since it was built, owners the National Trust said.
A conservation project has seen a roof, made from steel and glass built over the 1807 original, made to protect it.
The new structure is awaiting final sign-off, while restoration work is expected to continue indoors.
Nash's original curved, cast iron and glass roof will now be conserved, while plasterwork and gilding will be repaired inside the picture gallery.
A smaller secondary roof is also due to be built over the staircase, while black out blinds will be put up to protect the historic building.
The project is not expected to be completed for another year.
The most recent part of the scheme has seen 55 panes of glass, weighing a total of 12 tonnes, installed in a steel frame over the original roof.
It replaced a similar structure built in the 1970s.
Nash, who also designed Buckingham Palace, was described by the National Trust as "highly experimental", with the picture gallery marking one of the first uses of cast iron in a non-industrial building.