Rare butterfly returns to Telford reserves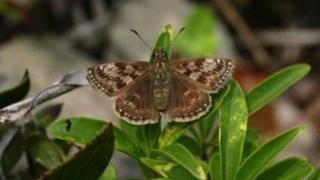 A rare and endangered butterfly species has returned to parts of Shropshire after an absence of almost 20 years.
The Dingy Skipper was spotted in Telford where preservation work has been carried out to help revive it.
The butterfly is one of the UK's rapidly declining butterflies due to habitat threats, Telford and Wrekin council said.
A spokesman for the local authority said officials were delighted the work had led to its return.
In 1997, the Telford and Wrekin area was identified as a stronghold for the Dingy Skipper by the Butterfly Conservation organisation.
Up to £10,000 in funding from recycling firm SITA UK paid for a two-and-a-half year project to improve the habitat at three sites - Albion Hill, Snedshill Grasslands and Granville Local Nature Reserve.
The butterfly has now colonised two of the sites and there is also a new breeding habitat there, a spokeswoman for the SITA Trust said.